Peleng 8mm f3.5 lens

Size
3" diameter, 2.75" tall
Weight
1 lbs
Aperture range
f3.5-f16
Minimum focusing
22cm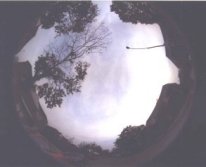 8mm lens image
Sorry, it's washed-out. Note that this image was taken with a 35mm SLR camera. When used on the Krasnogorsk-3, the image is a less-distored wide-angle, not fisheye.
Here is some time-lapse footage shot with the 8mm lens (2M mov file).
The yellow behind-the-lens filter was used to give sky contrast.
We have an instruction sheet in PDF format: 8mm.pdf
See the ordering page for price.
---
[ Home | echo $script_email_ncs; ?> | Ordering ]
Contents © 2008 NCS Products | echo $script_tel; ?> | New York, USA