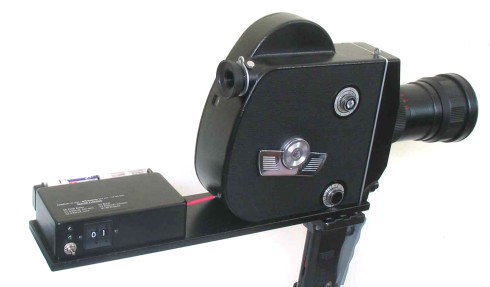 TimeFlow Intervalometer for the K-3
The Krasnogorsk has a mirror-shutter that will leak light with intervals above about 6-8 seconds, but for shooting traffic and clouds with short intervals, the Krasnogorsk will give great results.

We have a brand-new model for the Krasnogorsk-3!
The TIV-240K has intervals from 1-20 seconds as well as a turbo-mode with very fast frame rates (up to 3 frames-per-second!).
Like all the TIVs, the TIV-240K allows you to set the maximum number of frames to shoot and it will automatically stop filming.
The full manual for the TIV-240k models is available in pdf format.
Time Lapse Footage shot with the TIV and K-3
"B&W Old Man" was shot with a K-3 and an 8mm Peleng lens. One of the yellow filters was used to increase sky contrast. Reversal stock. The TIV was set for a 1 second interval, then a 2 second interval. If you watch closely you can see the clouds accelerate at the longer interval.
"B&W Clouds" was shot with a K-3 and the stock 17-69mm lens (set to 17mm).
See more footage at the timelapse page.
Other Information
Easy installation, fits between tripod and camera
1 year warranty
All-aluminum construction
Dimensions: 3.5" x 14", approx. 1.5" tall
Weight: 1lb, 3oz
Power: 4 AA batteries
Price and specifications are subject to change
There's a form on the main page you can fill out to get on our e-mail list. Want to know about Prices+Ordering?